Goodbye Gas - Unique Blend of Probiotics 125 Million CFU, Alleviates Gas, Bloating and Indigestion
Break Free from Burp Burden | Alleviate Gas, Bloating and Indigestion | 30 Chewmints

Regular price

Rs. 402.00

Sale price

Rs. 349.00
Say farewell to gas, bloating, and indigestion with Goodbye Gas. This powerful blend of probiotics, carminative oils, and digestive enzymes provides fast relief and promotes gut health and digestive comfort. 
Who is this for?

Individuals aged 25 and above.
Shipping and Delivery

We deliver Pan India and all orders are shipped within 24 hours.
Share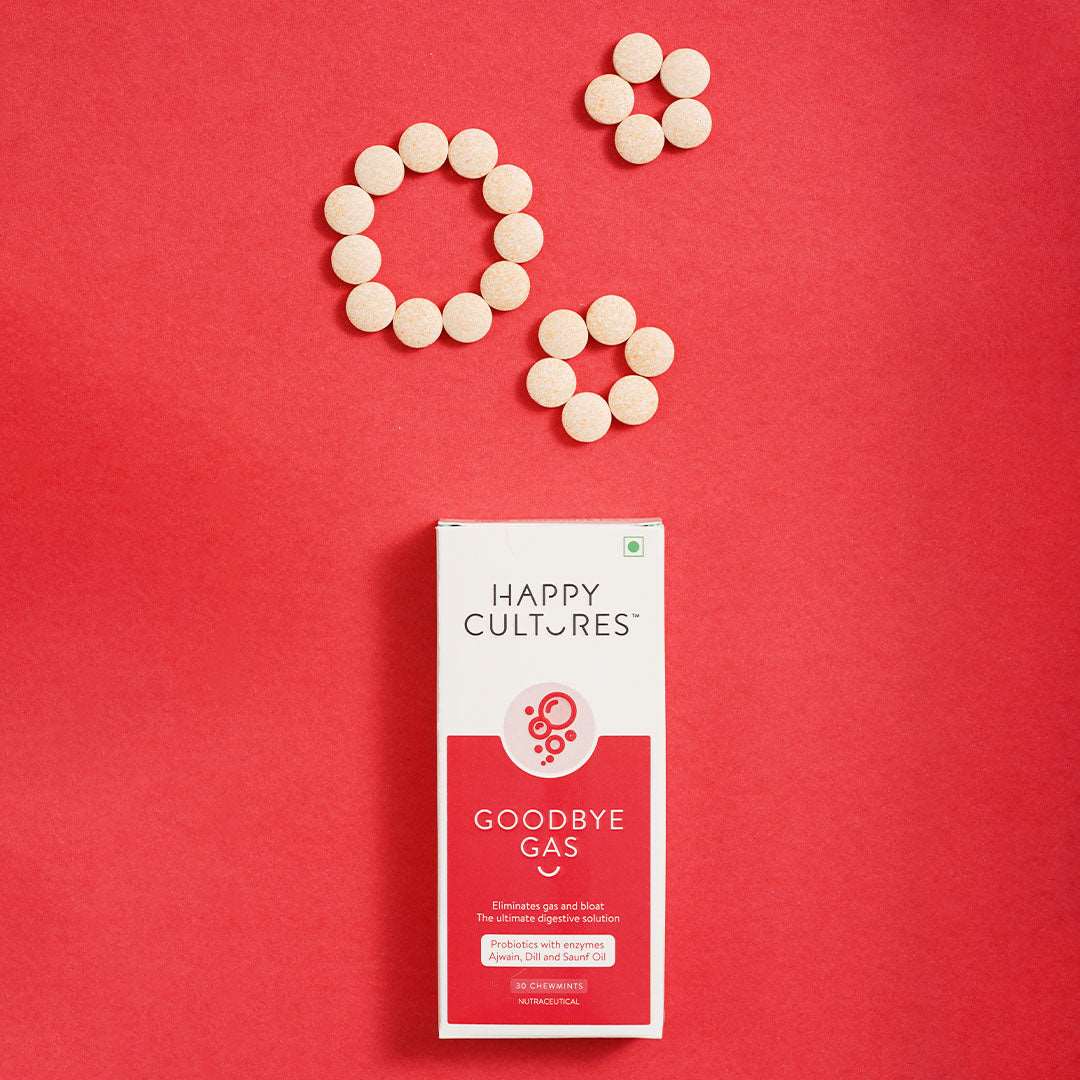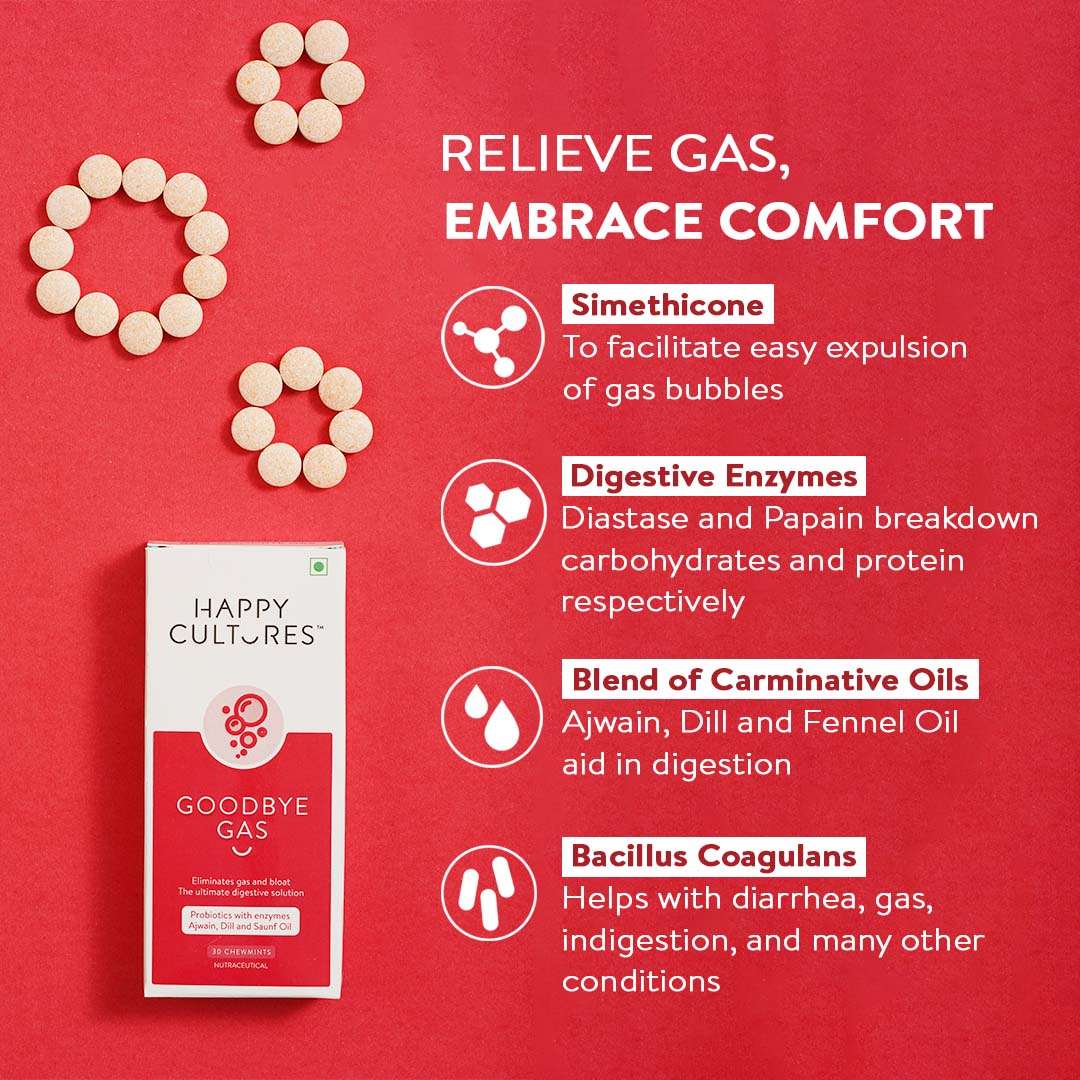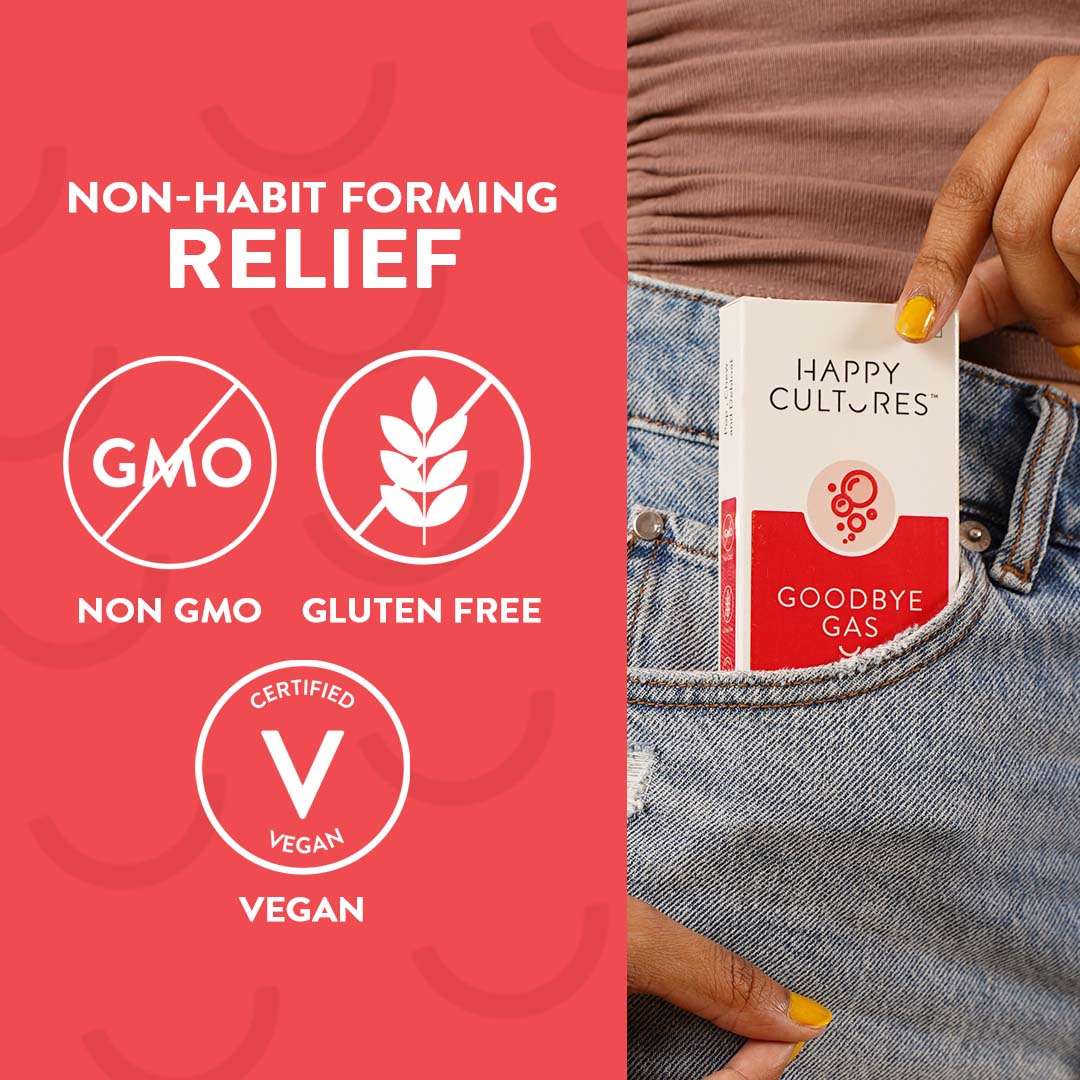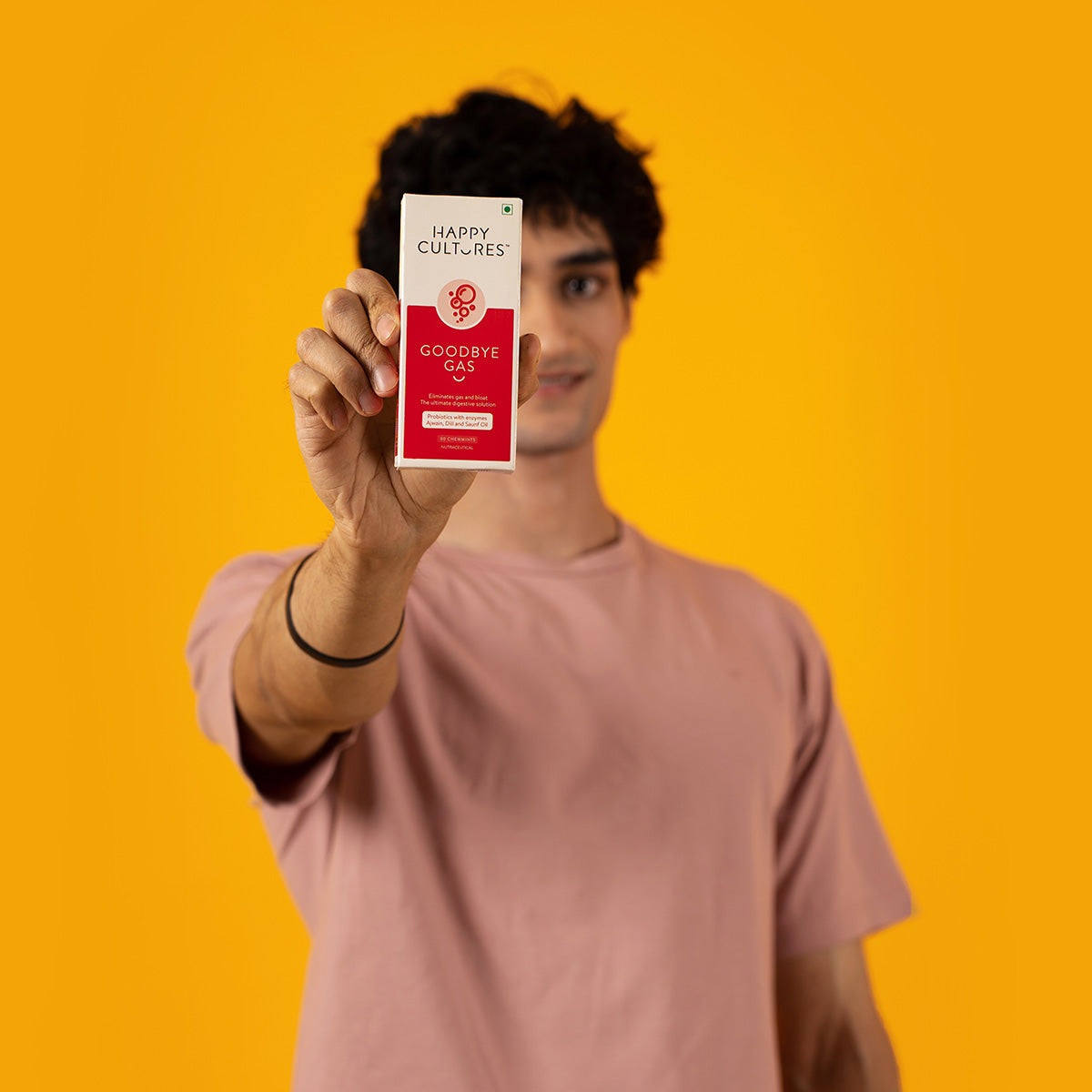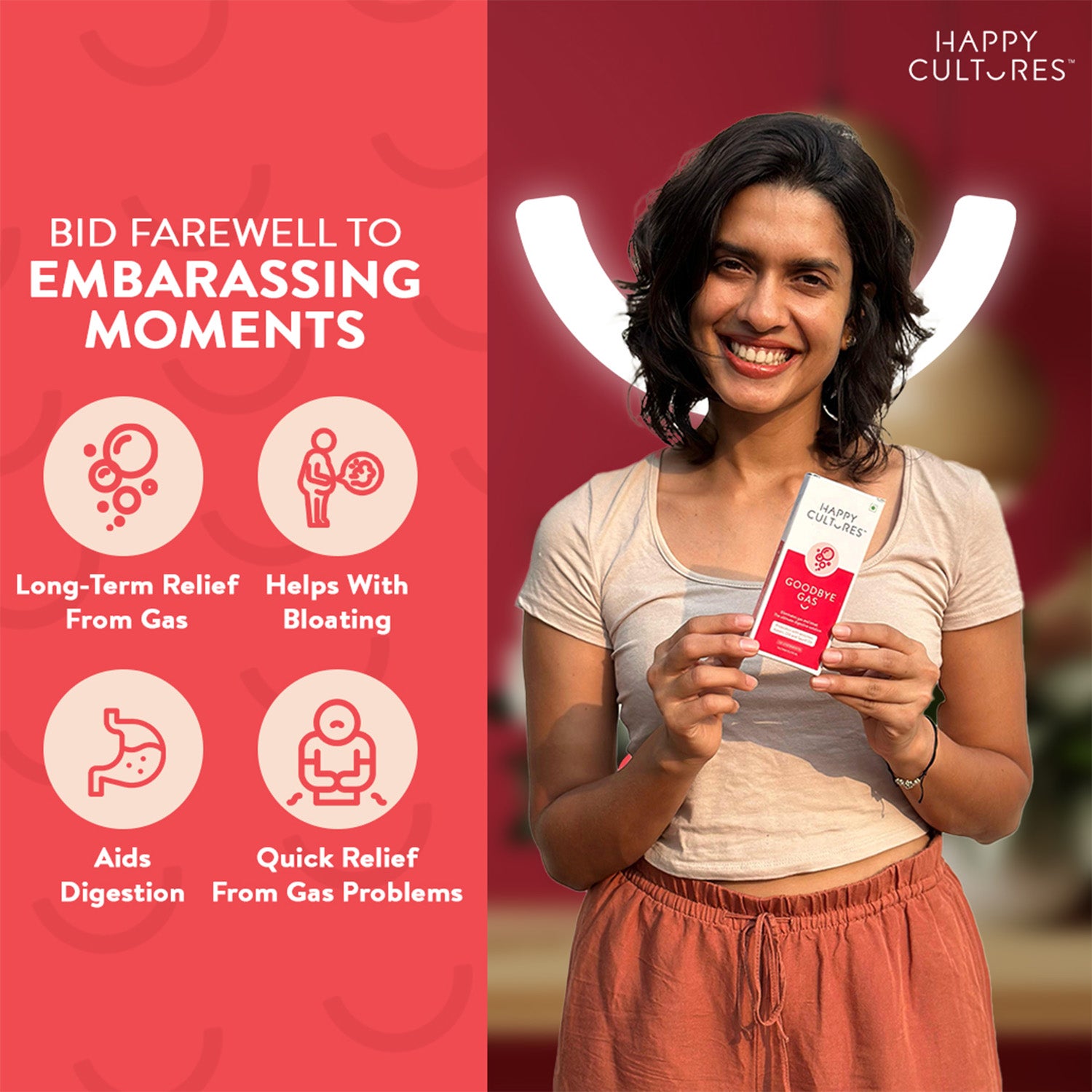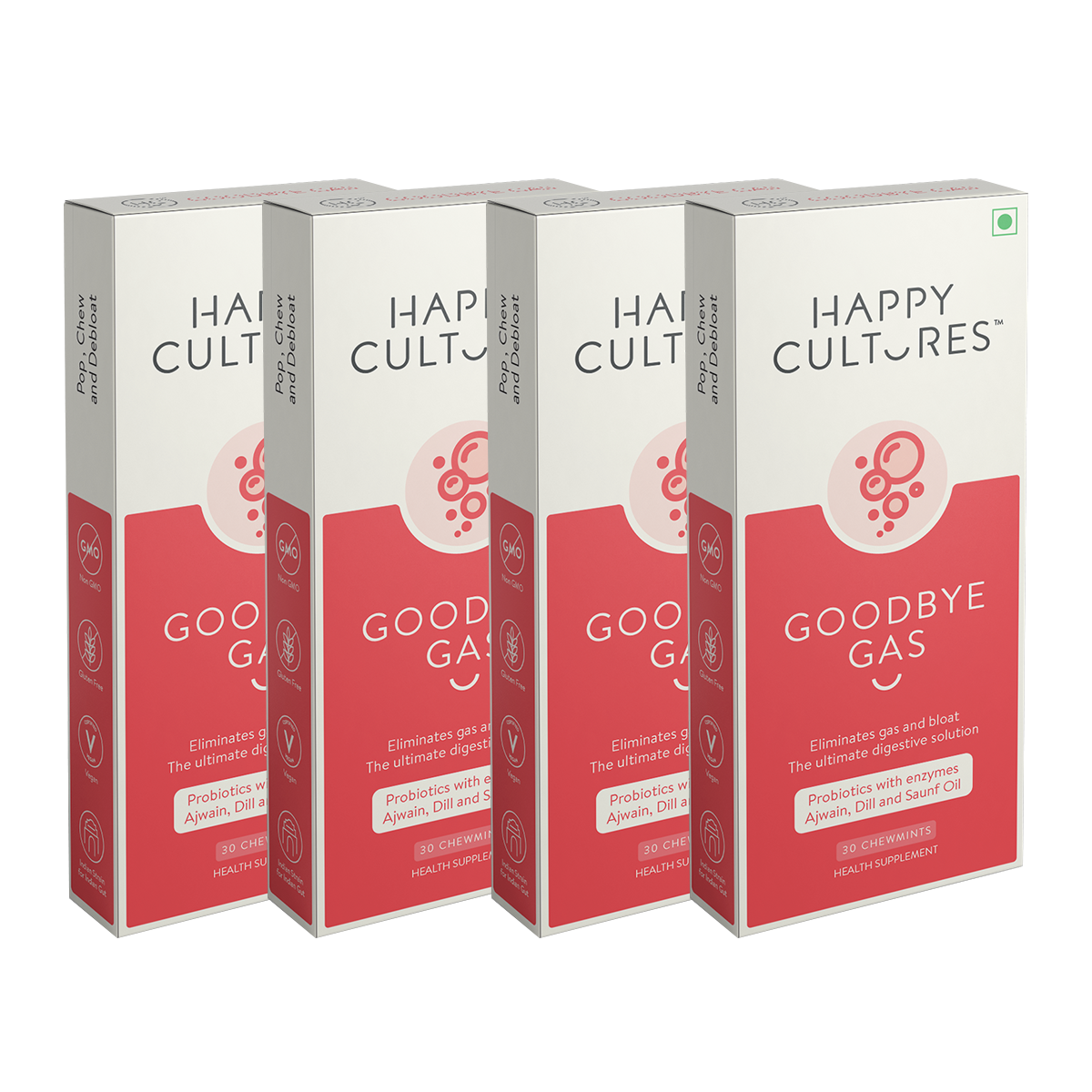 Goodbye Gas - Unique Blend of Probiotics 125 Million CFU, Alleviates Gas, Bloating and Indigestion
Regular price

Rs. 402.00

Sale price

Rs. 349.00
Ingredients
This expertly crafted blend of probiotics, carminative oils, and digestive enzymes ensures that you enjoy meals without the burden of gas-related discomfort.
Individually Sealed

Limits Exposure

No Need to Refrigerate

Protects the CFUs
Each serving individually sealed to prevent moisture, light & air from getting in.
Exposure to the elements could compromise the viability of the products.
NO NEED TO REFRIGERATE. Store in a cool, dry place away from sunlight.
Colony Forming Units (CFUs) are a measure of viable (live) probiotics.
How we compare with others
Our experts panel
Mr. R Sundara Rajan

40+ Years of experience across Pharmaceuticals & Management roles.

Mr. Vijayaraghavan S

50+ Years of experience across Pharmaceuticals & Academics & Research industries.

Dr. Srivatsan Srinivasan

B.Sc., M.B.B.S PG Dip in Hsc. (Diabetology), F.C.I.P Dr. Mohan's DSC GP Affiliate in Diabetology.

Dr. Sujatha S

MD Internal Medicine, MBBS, PGDM in Diabetology. Over 3 decades of experience in various roles.
FAQs
Are Happy Cultures supplements safe to use?

Happy Cultures supplements are developed and formulated by subject experts and are extremely safe to be used.
HOW LONG DOES IT TAKE TO EXPERIENCE THE BENEFITS OF THE SUPPLEMENTS?

Supplements form a part of alternative therapy, where it is seen that, when taken consistently for 6-8 weeks, visible results in terms of health benefits can be observed.
HOW SHOULD I STORE THE SUPPLEMENTS?

Store in a cool and dry place away from sunlight.
CAN PREGNANT OR BREASTFEEDING WOMEN USE HAPPY CULTURES PRODUCTS?

It is always advised for Pregnant & Lactating women to consult their regular Physician or Gynaec before taking any supplements.
CAN I TAKE HAPPY CULTURES SUPPLEMENTS ALONGSIDE PRESCRIPTION MEDICATIONS?

Yes, Happy Cultures are supplements which can be administered safely alongside drugs, just ensure that there is a gap of 2 hours for supplementing Probiotics after Antibiotics therapy to ensure proper absorption and retention of gut flora.